If you've been driving for long, there's a slim chance you haven't encountered bad roads. It can be anything from weather to t-bone clashes to structurally unsound roads. However, while a majority of our driving happens on immaculate, well-built roads, not everyone is as lucky. Many roads do not possess the required infrastructure.
Here's a list of the world's most dangerous roads.
1. Transfagarasan, Romania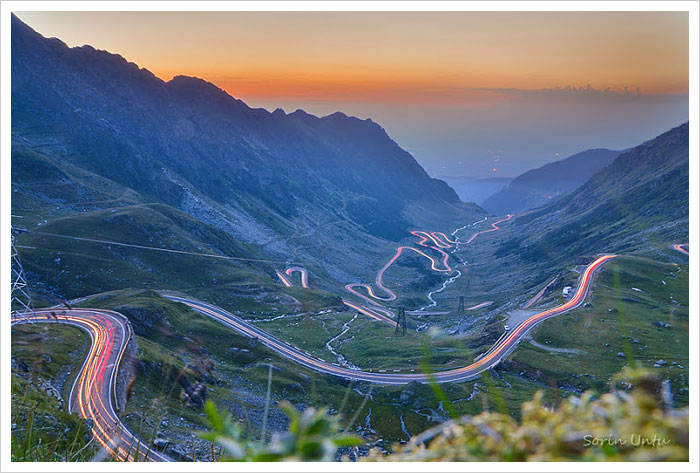 Also labeled "the Road to the Sky", "the Road to the Clouds", "the Best Driving Road in the World" and even "A spectacular Monument to Earth-Moving Megalomania" the TransFagarasan climbs, twists and descends right through Moldoveanu and Negoiu – the highest peaks in Fagaras Mountains and in Romania. This is no pass through a gap but a frontal assault, a stark and spectacular reminder of unchecked power stamping itself on an obstreperous landscape.The TransFagarasan ranges in elevation from 1,630 feet at Cartisoara to almost 6,700 feet at Balea Lac. The road is below the tree line until about 5,000 ft. and then it opens up and reveals itself.
2. 
Tianmen Mountain Road, China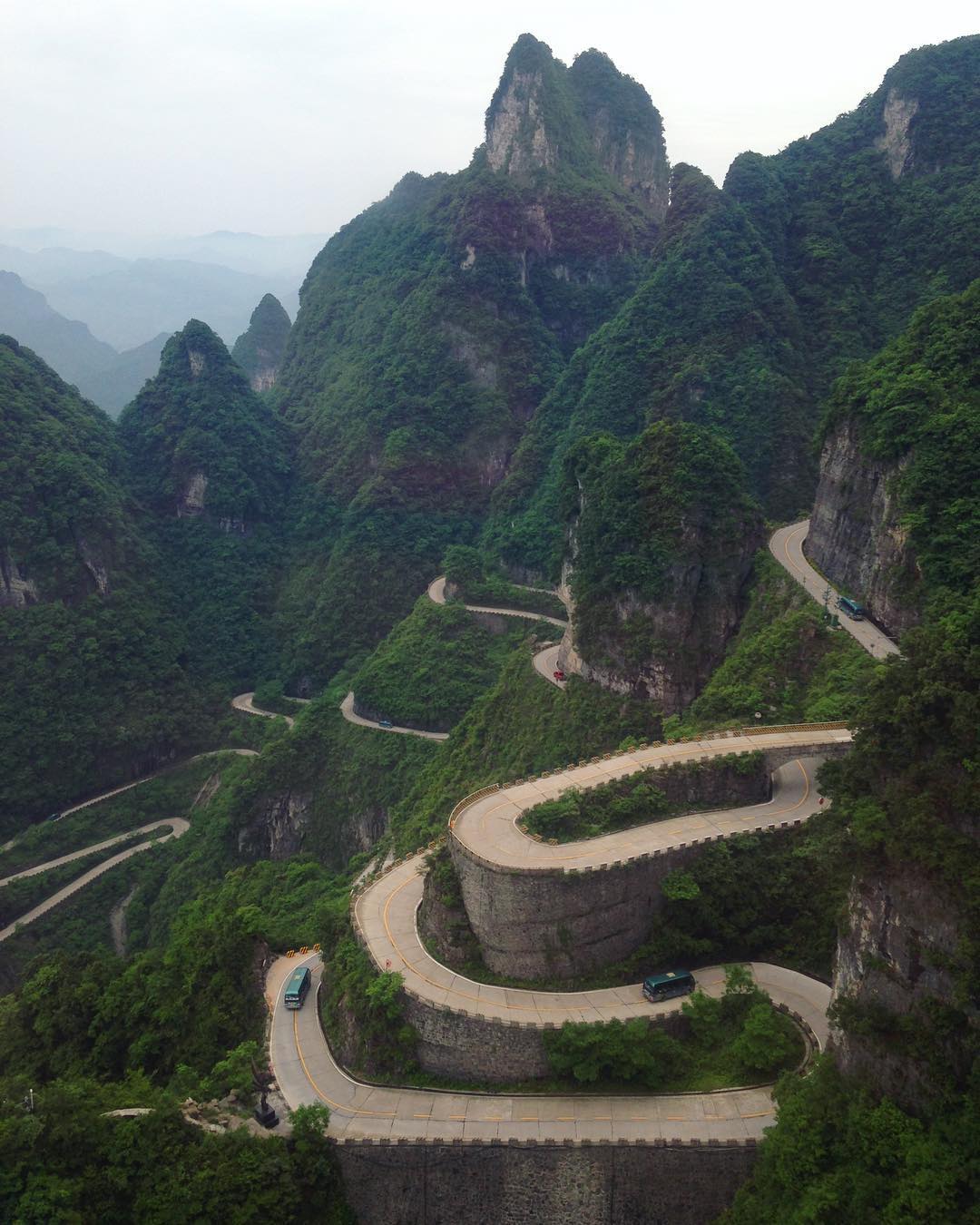 There are 99 sharp curves on the road up to Tianmen Cave, the famous 99 Bends. The best place to see and take photos of these bends is from the cable car.
The road is built for tourist use, taking tourists from the mountain foot to the top of the mountain and Tianmen Cave. Tourist buses take travelers from the midway cable car station along some of these 99 bends to Tianmen Cave.
3. 
Gotthard Pass, Switzerland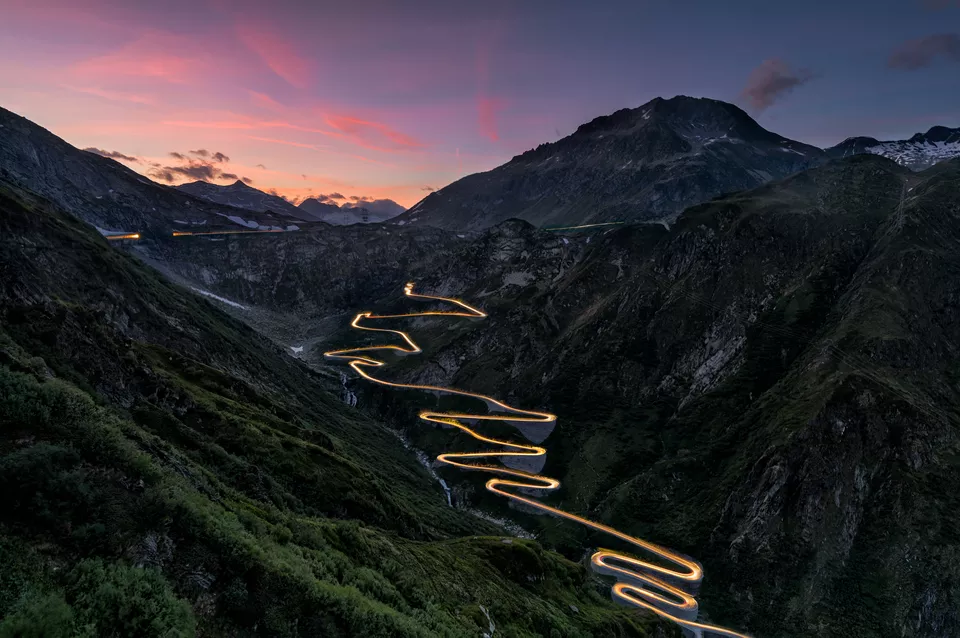 Gotthard pass (Passo San Gottardo in Italian) is situated 66 kilometers south-east of the approximate center of Switzerland and 93 kilometers south-east of Bern, a direct link between Zurich and Lugano. Once thought to be home to the highest peaks in the Alps, the pass wasn't attractive to the Romans who lived in its shadow, mostly because of the turbulent Reuss river and the steep Schöllenen Gorge, impassible conditions that were only solved in 13th century with the construction of a bridge in typical medieval style
4. 
Eshima Ohashi Bridge, Japan
The bridge is 1.44 km long with a width of 11.3 meters. It is the largest rigid frame bridge in Japan. If you look straight onto the bridge, the ridiculously steep incline makes it look more like a roller coaster than a road for cars to drive on. It stretches about a mile long with a height of about 144 feet and a 5.1% and 6.1% grade on each end.
5. 
Zozila, India
The Zozila (also know as Zojila or Zoji La) is one of the important mountain passes in India. At an elevation of 11,575 ft (3,528 meters) above the sea level, the pass links Amid Leh in the Western Himalayan Mountain Ranges and Srinagar. This strip of rock is not the place for a Sunday drive. It's 9km long, about 3,500m above sea level and provides an important link between Ladakh and Kashmir.
6. 
Dalton Highway, Alaska
Alaska has some of the coldest roads in the planet but there's one more extreme than the rest: The Dalton highway is one of the most isolated roads in the world. If you can drive this road you can pretty much drive anything: a trip to America's last remain of wilderness. It's said to be the loneliest road on the planet. The James W. Dalton Highway is a gravel highway running for 414 miles between the Elliot Highway just north of the city of Fairbanks and Deadhorse near the Prud hoe Bay oil fields and the Arctic Ocean.
7. 
Yungas Road, Bolivia
The road connects the Bolivian capital of La Paz with the low-lying region of Yungas in the Amazonian rainforest. In order to do so ,the road must traverse the mighty Cordillera Oriental mountain chain. Starting from La Paz, the world's highest capital at 3,660 meters in altitude, Yungas road first climbs to 4,650 meters at at La Cumbre Pass, and then makes a steep descent to the town of Coroico, at an altitude of only 1,200 meters. This drop of over 3,650 meters is one of the longest stretches of continuous downhill road in the world.
8. Guoliang Tunnel, China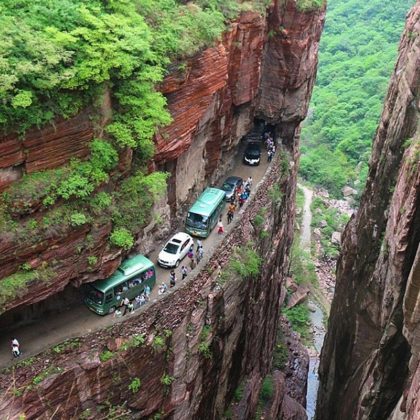 Locals built Gualiang Tunnel, since earlier a road cutting from the mountain was the primary communication method linking the small village to other places in and around it. Authorities later considered building a 1200 meter long tunnel for helping locals commute between regions more conveniently. Though China is known for its narrow winding passageways, this one takes the cake for re-defining dare-devilry.
9. 
Le Passage du Gois France
Passage du Gois is a natural passage with a length of 4,3km (2.58-miles), located on the Atlantic coast of France in the Vendée department. This stretch of the D948 road is periodically flooded leading to the island of Noirmoutier in France. It is flooded twice a day by the high tide. Pack an inflatable boat for driving this 4.3km road because just say for some crazy reason you mix up the tide times, then – like vehicles in the past – you might disappear beneath the salty brine. Located on France's Atlantic coast, the road floods twice daily with incoming tides and as the tides go out slippery seaweed is left all over it.
10. 
Hana, Hawaii

The 112 kilometer road stretch links Hana and Kahului on popular tourist island Maui. This narrow road stretch connects 59 bridges, out of which 46 feature a single lane. The pass is frequently shut owing to landslides in the region. While Hawaii is quintessentially gorgeous, it's thrilling features like these that add to its glory!
11. 
Atlantic Ocean Road, Norway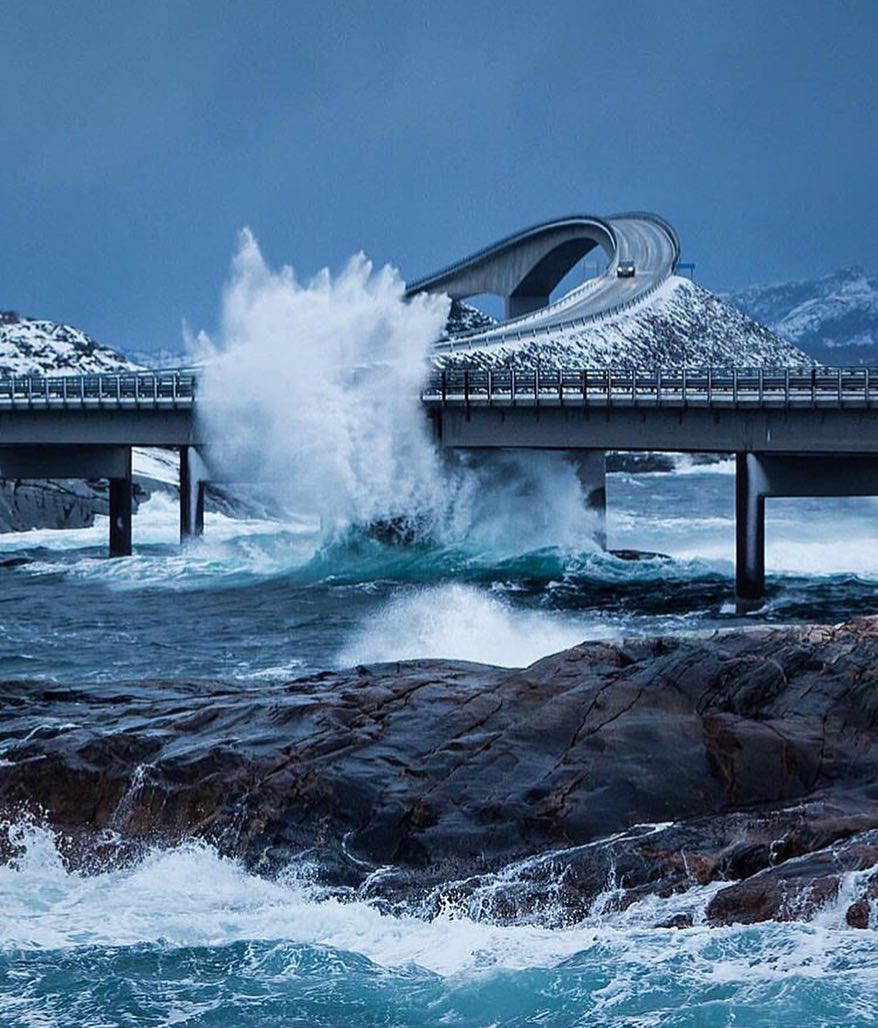 Atlantic Ocean Road links several tiny sea-side villages. It is worth going on a road trip through this road owing to the breathtaking natural sites, fascinating village communities and innumerable, off the beaten path tourist attractions. Norway's ice capped mountains combined with the rather picturesque Atlantic Ocean Road make for a splendid tourist attraction.
12. 
Col de la Bonette, France
This is a dangerous mountain pass that is nestled 2000 meters in the French Alps, adjacent to the Italian border. The road is characterized by narrow, steep and unpredictable twists and turns that aren't meant for faint hearted drivers. French Alps pathways are believed to extremely scenic, and this one doesn't disappoint on any count.
13. Kolyma, Russia

Photo by sergeydolya.livejournal.com
Kolyma is the road that links Magadan and Yakutsk. Did you know that the initial 90 kilometers of this stretch were made by mid-14th century prisoners? However, construction concluded only in the 20th century.
14. 
Khardung La, India
The road, according to government authorities is 5062 meters in height, which makes it taller than Mount Elbrus. Khardung is the loftiest pass on planet earth according to reputed resources such as National Geographic. It also holds the Guinness Book of World Record for being the world's tallest pass. Make it a part of your personal history too by being here!
15. 
Caucasus Road, Russia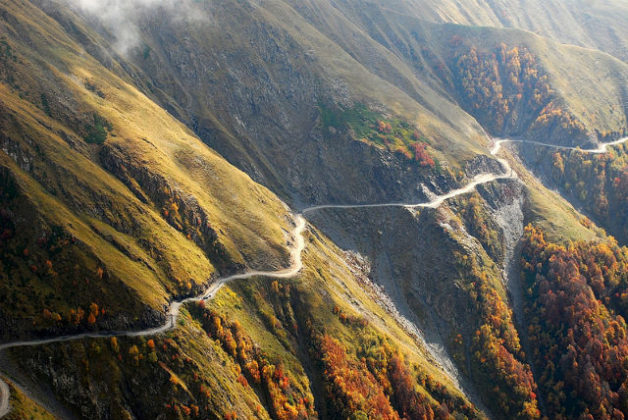 Sochi connects to the Ritsa lake through this narrow mountain pass. Although truly frightening for those intimidated by heights. It is both thrilling and frightening, and is worth spotting a minimum of once every week. Again, another Russian road that is known for its thrilling inducing steeps and curves smack in the middle of an imposing mountainous region. Combine this with stellar driving skills and a sturdy vehicle and there'll be no looking back really!